image gallery - lounge room renovation: 2014
Our lounge room had been built when the main house was built in 1991. Now, 23 years later in 2014 and after many glorious evening in front of the fireplace, many great movies watched and enjoyed on our 7.1 sound system and many parties for both young and the not-so young, it was time to change. The wool carpet had given good service but was really showing its age. The fireplace and heath, added around 1992 was chipped and scratched. the wall of bookshelves at the west end of the room now overflowing with both good and poor paper memories. And now that the kids are much older, one already left, It was definitely time to renovate.
The old lounge room.

We had been considering timber flooring for some time and I was hooked on Bamboo, it being both high quality and a renewable resource. After much research and visits to flooring specialists, we finally found just what we were looking for - 17mm thick, solid bamboo flooring with a 7 pack high gloss pre-finish. It was double tongue and grove, not clip lock and definitely not laminate. And guess where from? Of course, the place we seem to spend more time than almost anywhere else as we constantly build, add, change and renovate - Bunnings of course. We needed around 42 sq. metres to do both the lounge and study (another gallery), so our local Bunnings had to bring in more from elsewhere. We also bargained down to around $35/sq. metre.
Also required were new bookshelves and lounge suite. Sasha's pet rats had chewed holes in the previous leather lounge - goo Italian Leather tastes great ! (for pet rats). We wanted the new bookshelves to match our previous custom made commercial desks (from MIca at Bayswater, bought in 2000), so we designed and ordered the new shelving from them. It costs twice as much as the flooring !. We also spend ages searching for the right lounge. Now, as old farts, electric recliners were most interesting. They are smooth and can be reclined at any angle between the limits. Also the colour - we wanted it to match the new lounge paint scheme so we ordered a pale green leather. Hua used her extraordinary bargaining skills and knocked the price down from $4000 to $3000. But we had to wait 10 weeks. Ha! That gave me 10 weeks to finish the reno.
The old book shelves were made from ordinary pine and of different heights so O had build extensions on some and also made plywood panels behind some and the centre console area, then stained the whole lot burgundy with clear gloss finish. Built around 1993 or 4 I had completely forgotten how I had done it. I didn't find out until I had to remove them (see images).
Also to be considered was the wiring for the 7.1 sound system. As well as the 2 front, centre and sub woofer, it has 2 mid-room speakers and 2 rear room speakers. Previously t wiring for these had simply been tacked along the skirting. Now I had a chance to hide it all. The floor system was to be floating with an 8mm-10mm gap between the floor and the walls; the gap to be covered by skirting. This then presented an opportunity to hide the speaker wiring in this gap. Wires were then terminated in spring clips so the speakers simply needed to be plugged in at specific points along the skirting. Wires running up wall corners were hidden in secret mini tubed painted the same colour as the walls.
Here it is - our 2014 lounge room reno. Started in mid April 2014 and finished just before the end of June 2014.
The completed renovated lounge room. Click thumbnail gallery images below to see the full story.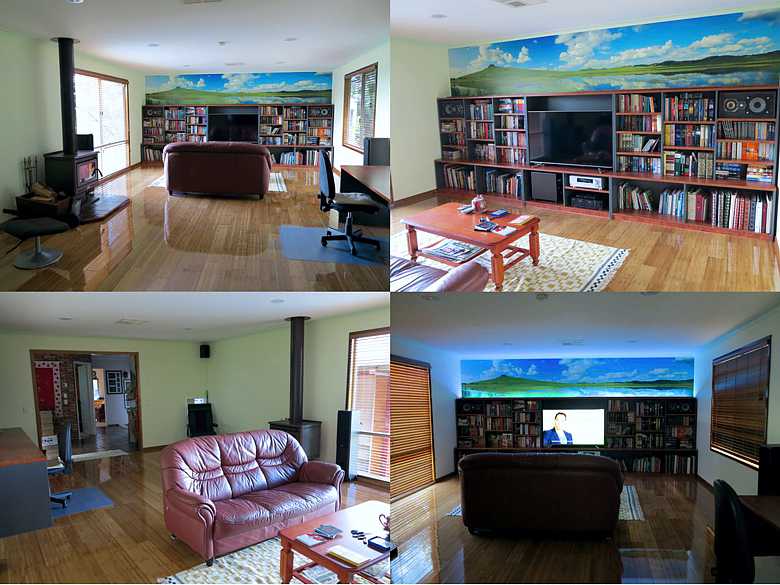 There are 76 images in this gallery - Click any thumbnail to see the larger version and caption, use the NEXT and PREV buttons to go forward or back, or click the CLOSE icon to close the slide show.
Lounge Room Renovation Gallery: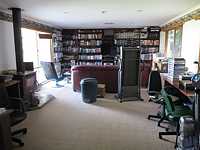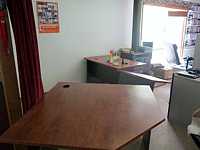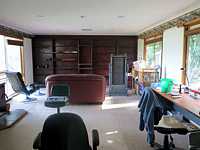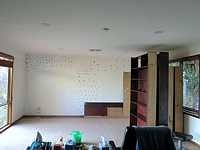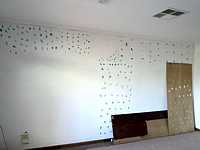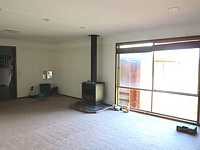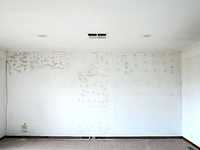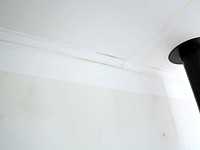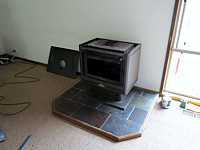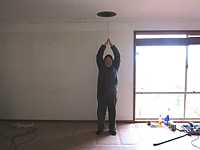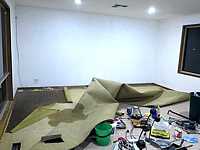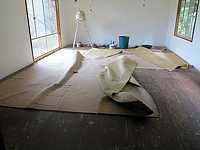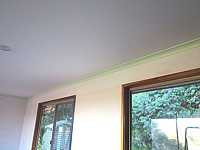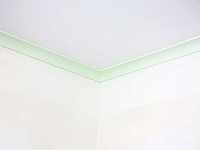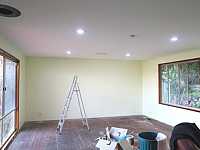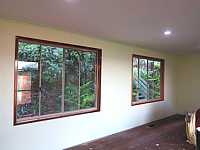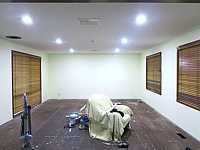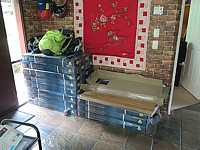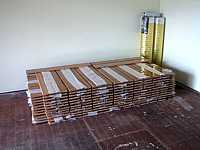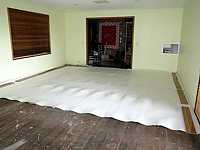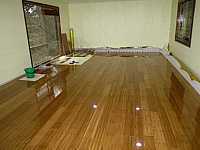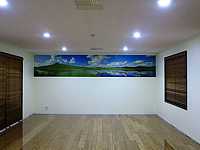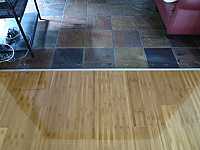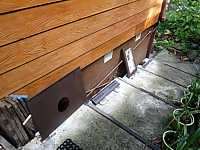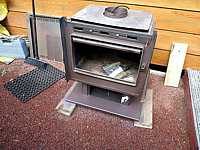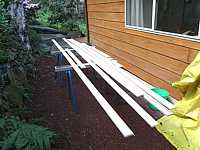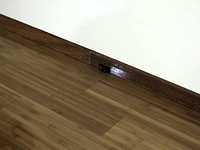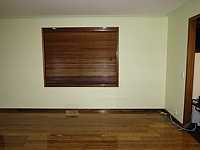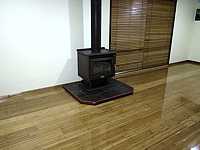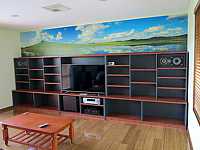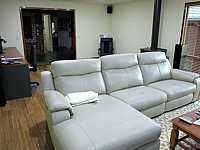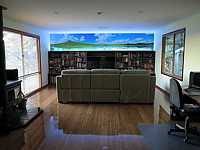 Choose other galleries from the menu on the left or return to the main galleries page.
If you have any comments or questions please ask. Enjoy :)
candid comments
The images and information on this site are personal and privately owned. It is provided as a means to share with friends and other interested parties for viewing online, on this web site only. Other than documents and images specifically designated as 'public domain', the reproduction by any means and use by anyone for any means whatsoever other than direct viewing through this site is prohibited except by express written permission of the direct family of David, Hua, George and Sasha Mutch. Copyright © 2008-2014.
updated by David on Thursday, August 14, 2014