image gallery - East Side garden beds and Stairs: 2011
The east side of the property is the suniest and therefore has the best aspect for gardens. This side is often traversed to access the heater and hot water system, which sometimes needs relighting if their pilots blow out in strong winds. It is steep and slippery in the wet and so a combined terraced system of garden beds, and stairs ad ramps to provide access between the top level the middle level and lower level, and then across to the back door, was important. furthermore, the design featured multiple short decks on the lower section so that a ladder could be used in multiple places to assist in clean the roof on the lowest level. This roof collects the most crap as its right under a giant Eucalypt which drops a tom of leaves, branches and sap onto the roof.
The work was done in two sections: The garden boxes along the property line were build between December 2010 to January 2011, while the stairs, decks ad ramps were built between July to August 2011.
There are 47 images in two albums here - 15 images in the first section (boxes) and 32 images in the second section (stairs). Click any thumbnail to see the larger version and caption, use the NEXT and PREV buttons to go forward or back, or click the CLOSE icon to close the slide show.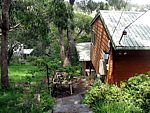 ---

Start of Stairs Slide Show: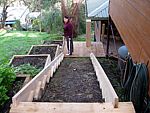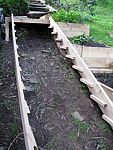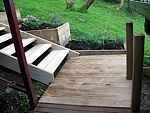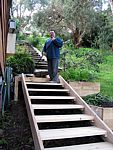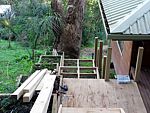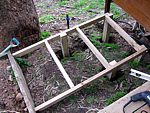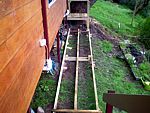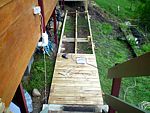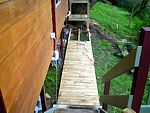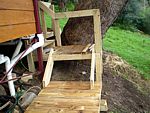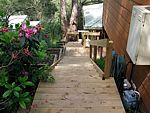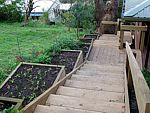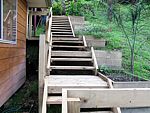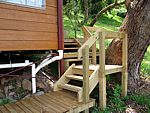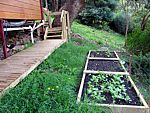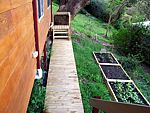 Choose other galleries from the menu on the left or return to the main galleries page.
If you have any comments or questions please ask. Enjoy :)
candid comments
The images and information on this site are personal and privately owned. It is provided as a means to share with friends and other interested parties for viewing online, on this web site only. Other than documents and images specifically designated as 'public domain', the reproduction by any means and use by anyone for any means whatsoever other than direct viewing through this site is prohibited except by express written permission of the direct family of David, Hua, George and Sasha Mutch. Copyright © 2008-2014.
updated by David on Thursday, August 14, 2014